Homemade orecchiette are not difficult to make. Their preparation requires only a little time on your hands and manual skills.
So if you want to learn how to make handmade orecchiette, this is the recipe for you!
But beware that this is the authentic Italian recipe for homemade orecchiette, the one they prepare in Puglia, made with remilled durum wheat flour (semolina), water and salt.
Orecchiette are the gastronomic specialty that most of all represents Puglia region, not only in Italy but in the world.
The round and convex shape of this type of pasta is similar to that of "little ears", hence their funny name!
Orecchiette have a rough surface, a thin interior and a thicker edge; they are perfect for topping with a variety of sauces.
The most typical seasonings of the Apulian tradition for orecchiette are tomato sauce and sheep ricotta salata, without forgetting the famous orecchiette with broccoli rabe.
Now let's see together all the secrets and tips to make this easy homemade orecchiette recipe!
See Also:
---
Homemade Orecchiette Recipe
Prep Time : 40 minutes + 1 hour to rest
Cook Time : 7/8 Min
Yelds: 4
---
Ingredients
---
Directions
Step 1) – Place the remilled durum wheat flour (semolina) on the pastry board, create a well in the center with your hands and add the salt. Pour room temperature water in the center a little at a time and start working the dough with the help of a tablespoon. Make sure water is completely incorporated before adding more.
Step 2) – Knead the dough with your hands for about 10 minutes, forming a homogeneous and elastic but not sticky dough. Form a loaf and let it rest at room temperature for 30 minutes covered with a kitchen towel.
Step 3) – After this time, use a pastry cutter or knife to remove one piece of dough and leave the rest covered with the kitchen towel.
Work the piece of dough with your hands making a long roll of dough about the thickness of a large finger. Now cut it with a knife into small pieces, about 1 cm wide (about 1/2 inch).
Step 4) – Get a knife with a round tip. Crush the piece of dough starting at the top edge and forcefully dragging the knife across the piece until it becomes concave.
At this point, turn your piece of dough over, bringing out the middle and leaving the edges as they are.
Continue until you've finished all the dough.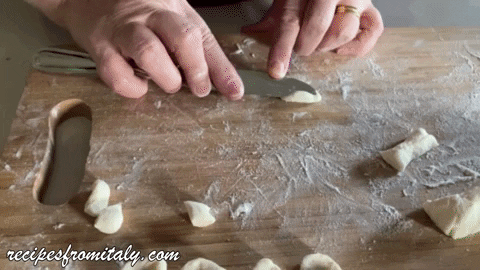 Step 5) – Sprinkle a little semolina on the tray on which you will place the orecchiette to dry. Place the orecchiette next to each other making sure they do not stick together.
Drying the orecchiette is very important. Place them separately on the work surface uncovered, overnight would be best, but still not less than an hour.
When at least an hour has passed, the dough will have become harder and naturally drier on the surface. At this point sprinkle with semolina and mix with your hands.
Your orecchiette are ready to be cooked!
Storage
If you don't cook them right away, you can put them on a tray and store in the refrigerator for 2 – 3 days. Store them in the refrigerator if they haven't dried well and are still soft.
If, on the other hand, you have dried them very well, the orecchiette can be stored in a cool, dry place for about a month.
Alternatively, you can FREEZE them. Place them on a tray well spaced out and put in the freezer. After about an hour they will have already frozen a little. Then you can transfer them to freezer bags, which are more practical.
It's not necessary to thaw the orecchiette before cooking, but you can dip them directly into boiling salted water while still frozen.
How to Cook Orecchiette
Cook homemade orecchiette in plenty of salted water for about 6/7 minutes, until they rise to the surface.
We recommend that you taste them to check if they are cooked! Depending on the thickness and the size, they require more or less cooking time.
Fresh pasta generally has a shorter cooking time than packaged dry pasta. Once cooked, drain and season to your liking.
How to Taste Homemade Orecchiette.
Once cooked, you can season the orecchiette as you like. Given their texture, they are also great for pasta salads.
The most popular traditional dish is the classic orecchiette with broccoli rabe.
Another use of the Apulian tradition, very simple but surprising for its goodness, are homemade orecchiette seasoned with tomato sauce and ricotta salata cheese.
Always from the Apulian tradition, we recommend a really hearty dish: orecchiette seasoned with a white sauce made of crumbled sausage, broccoli, plenty of hot chilli pepper and pecorino cheese flakes.
If you love fresh flavors and light dishes, then try orecchiette with a raw sauce of cherry tomatoes and arugula. Add some parmigiano flakes at the end, the result will not leave you disappointed!
What is Re-Milled Semolina?
The traditional Italian recipe of homemade orecchiette is prepared with durum wheat flour (semolina flour), better if it's remilled.
But what is remilled semolina and what are the differences with other types of flour?
First of all a very essential distinction: soft wheat and hard wheat.
The so called white flour is made by milling soft wheat which can be of different types according to the level of refining: whole wheat flour, type 2 flour, type 1 flour, type 0 flour, type 00 flour, which is the most refined one.
From the milling of durum wheat it's possible to obtain semolina, whole semolina and remilled semolina.
Semolina has the characteristic of being more yellow due to the presence of carotenoids and grainy, similar to fine sand so to speak.
Remilled semolina undergoes a further step during the milling phase, becoming finer in granularity. It also becomes lighter in color than semolina.
Remilled semolina is used in baking and pizzerias to make focaccia and characteristic breads. But it's also used to make some types of homemade pasta such as orecchiette!
The Origins of Orecchiette
Puglia's signature dish has conflicting origins.
According to some historians, orecchiette was born in Provence in the Middle Ages. Here they prepared a durum wheat pasta in the shape of a disc, hollow in the center. The shape also favored the drying of the pasta which was therefore ideal to be brought as a sustenance during long journeys in open sea.
The arrival in Italy would have happened thanks to the Angevins, who in the thirteenth century dominated Apulia and Basilicata.
Orecchiette then spread in Apulia between the 12th and 13th century, especially in Bari. Here they also call this kind of pasta "strasc'nat", literally "strascinati", from the custom of "dragging" the pasta on the table in order to obtain the classic round and concave shape.
Another thesis, instead, makes orecchiette date back to the city of Sannicandro di Bari during the Norman-Swabian domination. Here, between the 12th and the 13th century, a Jewish community was formed which united its cuisine to that of the dominant people.
In fact, in the Jewish tradition there are Haman orecchiette: round and concave cakes that resemble today's orecchiette!