Trofie pasta is a type of Italian pasta made with durum wheat semolina flour, water and a little bit of salt.
They have a characteristic elongated and curled shape.
Born in Liguria, in the province of Genoa, in particular in the town of Sori, they are a typical specialty of Eastern Liguria and of some areas of Piedmont.
You can buy trofie pasta in both fresh and dry versions and season them in many different ways. Tradition wants Trofie pasta with the classic Genovese Pesto (Trofie al Pesto).
Yet Trofie pasta is made in such a way that they match with any type of seasoning, especially if it has a creamy consistency.
Trofie are delicious even with a simple tomato sauce and some grated Parmigiano cheese.
Homemade Trofie Pasta recipe is not difficult to make; some skills and a little patience are enough to give the dough the typical screwed elongated shape with thinner ends and a slightly thicker central part.
So take a little piece of dough and curl it with your hand to create their characteristic shape. This step seems difficult and you will struggle to get them right the first time.
Don't worry! Once you have mastered the movement, the correct form will come by itself!
The typical shape of Trofie pasta helps to better pick up the sauce. Perfect for small children and for a vegan diet because they are egg-free!
Here's how to make homemade Trofie pasta, a simple recipe that will give you a lot of satisfaction. With this step by step recipe you will make a truly exceptional homemade Italian pasta!
Find out the tips and tricks for making other types of homemade pasta!
See also:
---
Homemade Trofie recipe
Prep Time : 40 minutes + 30 minutes to rest
Cook Time : 5/7 Min
Servings: 4
---
Ingredients
---
Directions
Step 1) – Place the flour on your work surface. Then make a hole in the center. Add the fine salt and pour the water, a little at a time, in order to use what is needed to make an elastic and homogeneous mixture.
The amount of water is indicative. It depends a lot on the type of flour and the temperature of the water (see the paragraph below "Tips and Tricks"). For this reason it's always better not to pour it all at once but a little bit at a time.
Step 2) – Knead with your hands vigorously for 5-10 minutes. If the dough is too soft, add more flour. If you are not able to work it because it's too hard then wet your hands with water – or add very little water – and keep kneading.
The dough must be compact and must not stick to your hands. Then form a loaf and let it rest at room temperature for about 30 minutes covered with a cotton cloth.
Step 3) – Then remove a few pieces of dough and make very small balls, as big as a hazelnut. Keep the rest of the dough covered to prevent it from drying out. Roll the dough balls under the palm of your hand on the pastry board.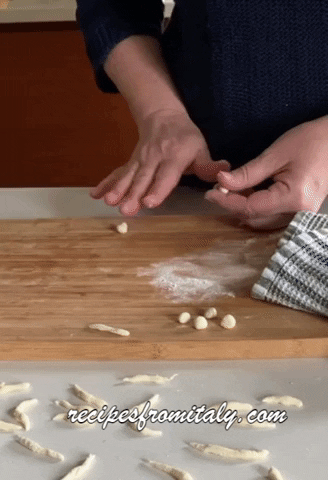 The movement must take place obliquely or diagonally and not in a straight line. This will give the Trofie the classic twisted shape, with the ends being thinner than the central part which is thicker.
Do the same thing until you have finished all the dough. When you see that the Trofie pasta are struggling to roll up, pass a damp napkin on the pastry board or moisten your hands with water.
How to Cook Fresh Homemade Trofie Pasta
Put the water in a large pot. Remember: one liter of water for every 100 g / 3.50 oz of pasta and 15 g / 0.50 oz of coarse salt per liter of water. When the water boils, add the salt and reduce the heat to low.
Then pour in the fresh homemade trofie pasta a little at a time, mix and raise the heat. Cook them for about 5 minutes.
How to Season Trofie Pasta
Drain them, leaving aside a little of the cooking water. Season with basil pesto sauce, tomato sauce or just unsulted butter and Parmigiano cheese.
With Trofie al pesto you can add potatoes and green beans to make the famous Italian recipe Trofie alla Genovese.
If necessary, add 1 or 2 tablespoons of cooking water to make the sauces even more creamy.
Storage
You can dry Trofie pasta on a wooden tray, well spaced to prevent them from sticking. Store them for up to 2 days out of the fridge.
You can even freeze Trofie. Place them well spaced on a tray then freeze them. After about 1 day, collect and place them in a food bag. In this way you can always have them available when you want to make a terrific recipe with trofie pasta.
So take them out of the freezer and put them still frozen in plenty of boiling salted water. Cook for about 5 minutes and season to taste.
Tips and Tricks
In Italy some prefer to make Trofie pasta with wheat flour or with a mix of wheat flour and wholemeal flour. So if you want to use a mixture of flours, for 4 people you can use 300 g/10 oz of wheat flour and 100 g/ 3,5 oz of wholemeal flour. Trofie made with this flours have a less rustic texture and are less paler.
The amount of water needed for the preparation of homemade trofie recipe can vary according to the type of flour used. For this reason, the tip is to add water a little at a time, so as to manage the quantity perfectly.
A "trick" to make the starch absorb better, is to pour hot water. It will help you to make the dough more homogeneous and to work better the dough with your hands.
To make trofie in the best way, the little balls of dough must be a little moist, but not sticky. DO NOT flour the pastry board, otherwise Trofie will turn without slipping and will be elongated but not curled.
Trofie Pasta Variants
Let's see 2 typical Italian variants of the homemade trofie pasta recipe.
"Trofie Bastarde"
In addition to the classic version of trofie pasta made with durum wheat semolina flour, there are Trofie made with a mix of chestnut flour and wholemeal flour. They are called "bastarde" in the popular language.
They are famous in Italy, especially in the Ligurian traditional cousine. Trofie Bastarde have a sweet and delicate flavor and are often seasoned with Walnut Sauce.
Black Trofie
A variant of the traditional Trofie pasta is the one made with cuttlefish black ink. You can use fresh cuttlefish black ink or the packaged one, which is easier to find.
Add 12 g /0.4 oz of black ink to the flour, then add the water slowly. The dough must be very consistent. The only flaw of this type of pasta is that you get your hands very "dirty". If you can, it wouldn't hurt to use gloves…
So knead the dough until it's homogeneous in color. Don't worry if it seems more gray than black: it shines and darkens during cooking. These trofie are perfect with fish-based sauces such as clam sauce or fish ragu.
Trofie Pasta: Origins, History and Curiosities
It's said that Trofie pasta was born at the time of the Crusades, in the area overlooking Golfo Paradiso. That is between the towns of Sori, Recco and Camogli, in the province of Genoa.
Trofie recipe was as a family product. They made them at home, until about fifty years ago, some traders in the area decided to expand their business. Trofie recipe spread quickly and was very successful.
The word "trofie" in the Ligurian dialect, before the spread of this type of pasta, had always and only indicated gnocchi.
The name of the trofie has uncertain origins: according to some, it could come from the Genoese dialect "strufuggiâ" which means "to rub", to indicate the movement necessary to give the pasta its classic rolled shape.
According to others, however, the name "trofie" could come from Greek words such as "trophe", which means "to twist".
Since 1985, every August in the town of Sori (Genoa) there is a festival dedicated to the Trofie pasta and their most famous condiment: the basil Pesto.